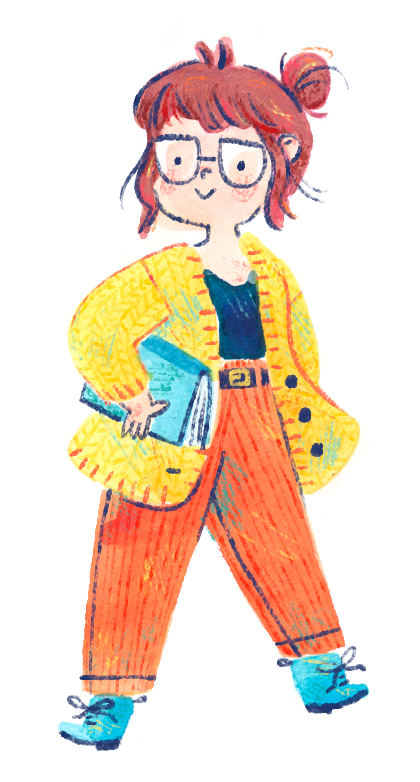 About Me
Hi! I'm Cris, a children's books illustrator based in London. Currently I also work at a book shop, which is quite fun! This basically sums up my two passions: books and art.
I was highly commended in the Macmillan Prize for Illustration for Cat in a Tux, my first picture book project. Since then, I've worked with Ransom Publishing and Curved House in the UK, and Babidi-Bú and Principia Kids in Spain.
If you're curious, I was born and bred in Málaga (Spain). In my free time, you can find me enjoying a cup of coffee with a book, or having long walks trying to make friends with random cats.
If you have a children's book project you think I could be suitable for, you can contact my agent Kelly Sonnack at the Andrea Brown Literary Agency: kelly@ andreabrownlit.com
Work experience
Children's Books Illustrator
Honest History magazine, illustrator · 2023
Principia Kids magazine, usual illustrator · 2021-present
'The Unicorn Party', published by Curved House · 2021
'Amarillo', published by Babidi-Bú · 2021
'Un Cuento de los Malos de los Cuentos', published by Babidi-Bú · 2021
'Zal and the Phoenix', self-published · 2020
'The Bad Bug', published by Ransom Publishing · 2020
'Cat in a Tux', highly commended in the Macmillan Prize for Illustration · 2019
'Sybil, la brujita de Wall Street', published by Mr Momo · 2017
Chief Illustrator and Designer
Smart Zoociety, a hand printed t-shirts brand · 2016-2017
Intern Illustrator and Designer
El Golpe, a Design Studio (Seville, Spain) · 2016
House of Illustration
Volunteer in Marketing and Galleries · 2018-2020
Studies
Children's Books Covers
Domestika · 2022
Children's Book Illustration · Advanced
City Lit (London) 2019
Lettering for Children's Illustration
Domestika · 2023
Adobe Illustrator for Web Design
Treehouse courses · 2017
Web Typography
Treehouse courses · 2017
UX Basics
Treehouse courses · 2017
Fine Arts Degree
Universidad de Sevilla (Sevilla, Spain) 2012 · 2016
Illustration · Graphic Design · Animation
De Montfort University (Leicester, UK) 2014 · 2015
Illustration Training Course
Escuela de Arte San Telmo (Málaga, Spain) 2010 · 2012
Exhibitions
I was proud to be invited to take part in this exhibition, one of many in ARTSevilla 2016, a yearly art festival. Many artists participated in ARTSGráfica, a celebration of drawing and illustration.
Casa del Libro
That's a 4 storey book shop in Seville, and they like to use the stairs' gaps for local artists' exhibitions. I sold quite a few in this one! Seeing my work surrounded by books felt great too.